Take the Pulses on India
Indian cuisine is one of the finest in the world. Recipes using the pulses of India are full of colour, vibrancy and health-giving nutrients. They are easy to master. Pulses are used to make a wide variety of food in Indian cuisine.
They can be ground into flour, soaked and ground into a paste, and commonly used in desserts. They are usually available in three types: whole, split with skin on, or split with skin removed. Fully versatile and immensely nutritious, make sure they are a staple in your kitchen cupboard. Dive in and relish the taste of India.
CHICKPEA (channa)—white skinned variety is known as kabuli channa. Channa flour is the main ingredient for many dishes.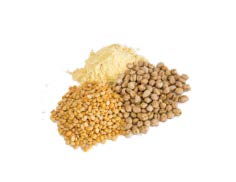 Chana Masala
Preparation time: 20 minutes (plus overnight soaking and cooking of chickpeas) Serves 4
Ingredients
1½ cups cooked chickpeas (channa/garbanzo) (soak overnight and cook till tender)
1 large tomato
½ tsp fennel seed
1 tsp garam masala
½ tsp minced fresh ginger
1 small bunch chopped coriander leaves
1 tsp red chilli powder
1 tbsp oil
1 tsp salt (adjust to taste)
Directions: Heat oil and add the ginger. Fry for 30 seconds and add fennel seeds. Add tomatoes and cook until soft. Cool and blend to a fine paste. Return to the same pan and add cooked chickpeas, chilli powder, salt and water. Bring to boil and simmer for a few minutes.
Add the garam masala and sprinkle liberally with chopped coriander leaves. Serve with rice or flat bread.
URAD (black gram)—small black seed, white inside. Used widely to make dosas, idlis, poppadum.
Adai (South Indian pancakes)
Preparation time; 30 minutes (plus overnight soaking of pulses) Serves 4
Ingredients
1/2 cup rice
1/4 cup toor dal
1/4 cup split chick peas (chana dal)
1/4 cup urad dal (split black lentils)
5 to 6 red chillies, broken into pieces
2 tbsp freshly grated coconut (optional)
1/4 cup grated carrot
1/4 cup finely chopped cabbage
1/4 cup finely finely chopped fresh coriander
1 tbsp finely chopped curry leaves salt to taste
4 tsp oil for cooking
Directions: Clean, wash and soak rice, dals and chillies in enough water to adequately cover, for 2 hours. Drain and blend in a mixer to a coarse batter using approx.1¼ cups of water. Transfer mixture into a deep bowl, add all the remaining ingredients and mix well. Heat a shallow frying pan (griddle), sprinkle a little water on the surface and wipe it off gently using a cloth. Pour a ladleful of the batter and spread it in a circular motion to make a 175 mm. (7") diameter thin circle. Spread ¼tsp of oil over the batter and along the edges and cook on a medium flame till the Adai turns golden brown in colour and crisp. Turnover and cook on other side. Fold over to make a semi-circle. Repeat with the remaining batter. Serve immediately.
RED LENTIL (masoor)—brown skinned lentil, orange inside. Commonly used to make dal, soups and stews.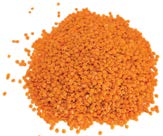 Red Lentil (masoor) Dal
Preparation time: 30 minutes Serves 2-3
Ingredients
¾ cup masoor dal/red lentils
½ or 1 tsp lemon juice, as required
1 medium sized tomato, chopped
¼ inch fresh ginger, finely chopped
1 green chilli, chopped
1 to 2 whole dry red chillies
1 tsp cumin seeds
¼ or ½ tsp red chilli powder
¼ or ½ tsp garam masala powder
½ tsp turmeric powder
1 tsp crushed dry fenugreek leaves (optional)
2 cups water, as required
2 tbsp oil or ghee
1 tbsp chopped fresh coriander leaves salt as required
Directions: Clean and rinse dal. Boil lentils in a pan with 2 cups water, till soft and mushy. Adjust quantity of water as required. When dal is cooked, lightly beat with a wooden spoon and keep aside. In another pan, heat oil or ghee. Fry the cumin seeds till browned. Add chopped ginger and stir fry for 10-15 seconds. Add green and red chillies. stir. Add all the dry spice powders one by one and stir. Add the tomatoes and fry till oil separates and tomatoes soften. Add the cooked dal. Add 1½ to 2 cups water. Add salt and stir. Simmer dal for 6-7 minutes more on a low or medium flame till you get the desired medium consistency. Add crushed fenugreek and simmer for 1 minute. Add lemon juice and 1 tbsp chopped coriander leaves and stir. Serve with steamed basmati rice or flat bread.
TOOR (pigeon pea)—beige lentil, yellow inside. A staple in everyday Indian households.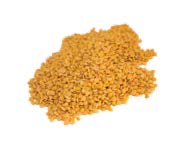 Toor Dal Sambar
Preparation time: 60 minutes (plus overnight soaking and cooking of toor dal) Serves 2-3
Ingredients
For lentils
1 cup toor dal (pigeon peas)
2 ½ cups water
1 tbsp oil
For sambar
1½ cups of tamarind water (1 tsp tamarind paste dissolved in water)
4 tbsp oil
½ cup carrot, julienned
½ cup red pepper, julienned
3 green chillies, split in half (adjust to taste)
20 curry leaves
½ cup cubed tomatoes
½ tsp cumin seeds
½ tsp mustard seeds
½ tsp turmeric
2 tsp chopped fresh coriander
salt to taste
Directions: Soak lentils overnight. Cook in salted water till soft. In a heavy sauce pan on medium heat add oil and mustard seeds. When they splutter add cumin seeds. Add the carrot and red peppers and cook for 3 minutes. Add turmeric, tamarind, tomatoes, salt, curry leaves, and cooked lentils. Add water to medium consistency and simmer for a few minutes. Serve with rice or flat bread.
MUNG BEAN (green gram)—green outer shell and yellow inside. Used for both sweet and savoury dishes.

Kitchari (rice and lentils)
Preparation time: 35 minutes Serves 4
Ingredients
1 cup white or brown basmati rice
1 cup split mung dal (yellow lentils)
4 cups water 2 tbsp ghee or butter
2 tbsp minced fresh ginger or
1 tbsp dry ginger
1½ tbsp cumin powder
1 tsp turmeric salt and pepper to taste
Garnish: chopped fresh coriander, ghee, yogurt
Directions: Bring water to boil in a large heavy bottomed saucepan. Put rice and dal in fine mesh colander and rinse mixture under cool water until it runs clear. Add rice and dal mixture to boiling water. Cover and simmer for about 30 minutes or until water is absorbed. Add more water for a soupier consistency. Fry spices in ghee or butter in pan till fragrant. When rice and dal are cooked take off heat and pour spices into rice/dal and mix thoroughly. Garnish as required. Serve with flat bread. Sweet Variation: Add ½ cup coconut milk, maple syrup to taste, cinnamon and nutmeg to the ghee/butter. Omit the cumin and turmeric. Add dried fruit and toasted nuts. Serve with shredded coconut as garnish.