The Spice of Life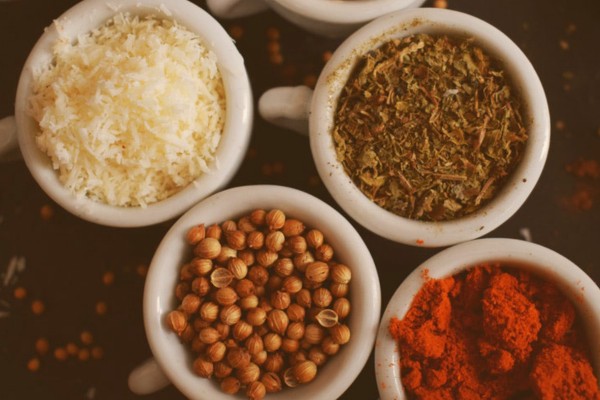 Cumin
• Boosts body metabolism, aids weight loss
• Maintains blood pressure and heart rate
• Aids insomnia
• Strengthens bones, improves muscle flexibility and strength
• Regulates blood sugar level
• High iron content reduces anaemic conditions
• Reduces respiratory problems, breathing difficulties
• Anti-fungal, anti-microbial and anti-inflammatory
Turmeric
• Anti-oxidant, boosts immunity and through its active agent curcumin destroys free radicals
• Anti-fungal, anti-septic and anti-bacterial
• Enhances skin condition. Reduces wrinkles and blemishes. Soothes burns, treats cracked heels
• Powerful anti-inflammatory
• Encourages healthy hair and reduces hair loss, dandruff
• Restores normal pH level of stomach. Prevents ulcers and acidity
• Maintains liver health through detoxification
Coriander
• Strengthens the eyes. Remedy for conjunctivitis
• Prevents menstrual irregularities
• Anti-inflammatory, anti-fungal—effective in healing skin disorders, mouth ulcers
• High vitamin C content helps with colds and flu, reduces phlegm
• Remedy for nausea, diarrhoea and halitosis (bad breath)
• Reduces hypertension, reduces LDL cholesterol
• High iron content reduces anaemic conditions
• Strong anti-histamine properties, reducing hay fever and seasonal allergies and allergic reactions to food, plants and insects
Cardamom
• Anti-oxidant, retards cellular ageing
• Anti-spasmodic, helps hiccoughs, intestinal cramping
• Blood-purifier, removes excess toxins from the kidneys
• Remedy for colds and flu, mouth infections and halitosis
• Anti-bacterial, anti-fungal, anti-viral
• Relieves hypertension
• Remedy for skin allergies, improves skin complexion
• Masking agent. Strong warming fragrance wards off unpleasant smells
• Encourages healthy hair growth and enhances shine and lustre in hair
Fennel
• Regulates blood pressure
• Diuretic
• Expectorant properties, reduces the symptoms of asthma
• Improves eyesight. Used in ancient India for the treatment of glaucoma
• Has cooling effect on the body
• Calms nerves and promotes mental clarity
• Anti-inflammatory
• Contains high content of dietary fibre
Black Pepper
• Anti-depressant
• Has mild laxative effect
• Boosts metabolic rate, aiding weight loss
• Stimulates the digestive processes
• Relieves colds and coughs
• Carminative, aiding flatulence and bloating
• Promotes sweating, ridding the body of toxins
• Enhances the immune system
Spices are not just to enhance flavour—they have a broad range of powerful healing properties.  Add these magical gifts of nature to your favourite recipes.
KASHAYA
A wonderful aromatic health-giving drink. Add spice to the early morning or drink it at night to soothe away the day.
• 1 tbsp coriander seeds
• ½ tbsp cumin seeds
• 1 tsp fennel seeds
• 3 cardamoms
• 1 tsp black peppercorns
• ½ tsp turmeric powder
• 1 inch fresh ginger, grated
• 3 tbsp milk (adjust to taste)
• sweetener (adjust to taste)
1- Grind coriander, cumin, fennel, pepper, and cardamom in a blender to a medium fine powder (not too fine).
2- Add 1 cup of water to a saucepan and add 1 heaped tsp of the kashaya powder, then the turmeric powder and grated ginger.
3- Add sweetener to taste.
4- Allow to simmer gently for five minutes. Strain through a fine sieve.
5- Add 2-3 tbsp of milk and drink while hot.
To Store Kashaya Powder
Dry roast separately coriander, cumin, fennel, pepper and cardamom in pan over heat for two minutes. Be careful not to burn the seeds. Add to bowl and mix. Grind to coarse powder and store in airtight tin. Additional ingredients to taste can include cloves, nutmeg and dried
ginger.