Charitable Works of the Sivananda Yoga Vedanta Centre in India
by Kalyani
In the chapter on Charity in Bliss Divine, Swami Sivananda says that the best form of charity is vidya-dana, imparting wisdom. Our Centres and Ashrams are specifically set up by Swami Vishnudevananda for this purpose; to give people the tools for peace of mind.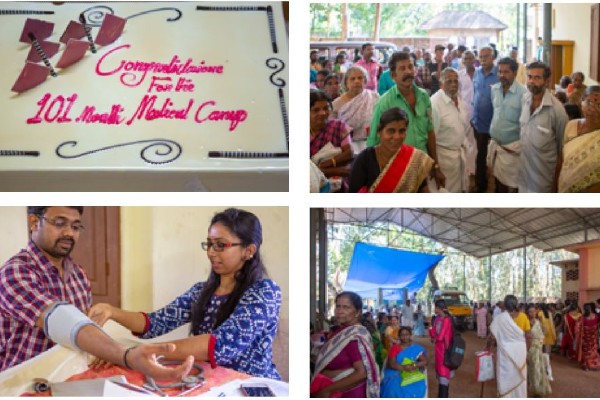 Swami Sivananda continues to say that the second best form of charity is giving medicine to the sick; and the third best is anna-dana or giving food to the hungry. Our Centres and Ashrams in India regularly provide for these needs.
Despite the Indian economy flourishing, with a population of about 1.34 billion people, where close to 70% live in rural villages, provision of jobs, health care, education and transport facilities is a daunting task. According to the India Philanthropy Report 2017, despite progressive government schemes in India such as Beti Bachao Beti Padhao (Save a Girl Child. Educate a Girl Child), Jan Dhan Yojana (a financial inclusion programme) and Swachh Bharat (Clean India Mission), India is far from achieving critical social goals.
On the positive side, the report notes that the Indian philanthropy market has matured with funds contributed by individuals growing faster than funds from foreign sources and funds contributed through corporate social responsibility. At the same time however, it is pointed out that philanthropic efforts from any direction are needed to overcome the many obstacles found here in India in trying to meet the basic needs of the poor.
Medical Camps
The 101st free ayurveda medical camp took place at the Sivananda Dhanwantari Ashram at Neyyar Dam on 21 December 2018 after holding camps for 500 – 1000 people once a month for eight and a half years. The local people are greatly appreciative of the service provided by ten or so doctors prescribing free consultations and medicines. The average number of patients is 800 to 900 per camp.
The possibility of replacing the monthly camp with a free daily clinic to better serve the public is currently under consideration. The Sivananda Rural Clinic set up in 2013 and the Free Rural Mobile Clinic started in 2016 by the Sivananda Meenakshi Ashram in Madurai, Tamil Nadu with a kind donation from Mr Vishnu, Toronto, for purchasing the ambulance, continue apace. With recent outbreaks of viral fever in the area, the number of patients to the general clinic each day has increased markedly.
The regular Sunday Camp, where doctors of different disciplines offer free consultations continues to expand. As well as specialist attention in such areas as diabetes, obstetrics and gynaecology, women's health generally, cancer, eye care, dental, general medical and surgery, these camps provide an important opportunity for the health education of the most poor. Many false notions and fears about surgery and modern medicine are challenged, allowing modern science to be used alongside the traditional village approaches.
In addition it is much easier for those in the outlying villages to attend these clinics, using the small ambulance as transportation, than to make the longer and more expensive journey to the busy hospitals in the city of Madurai. The weekly free ayurveda medical clinic at the Sivananda Kutir Ashram in Netala in the Himalayas has been running now for over twenty years, opening its welcoming doors in 1998.
The number of patients seen each Sunday afternoon ranges from 10 as a minimum in the summer months to around 30 in the winter months when the weather is more of a challenge. As well as receiving the loving care of Dr Chandok, free medicine is also prescribed.
Delhi
The Sivananda Dwarka Centre provides support to My Angels Academy, a charity working in Delhi for underprivileged children and the young. These include children of migrants living in the city slums, young inmates in jail and tribal children in Orissa. The Academy has succeeded in taking many children off the streets away from rag-picking, begging, pick-pocketing and involvement with drugs and such like.
They have been entered into the educational system and provided with after-school activities, including English language development, sport, dance, theatre and yoga. Over one hundred of the students came to the Centre for a feast for Swami Vishnudevananda's birthday on 31st December 2018.
Neyyar Dam
The Ashram makes many regular contributions to individuals in the local area for health, education, housing and social needs as well as to local temple festivals and temple development. It regularly contributes to the SG Special School which has been providing opportunities of stimulation and education for mentally- and physically-challenged children of impoverished families from the local tribal areas since 1980.
A number of volunteers serve 75 children from a rented space—with great love and devotion. An appeal is currently in progress for funds to purchase land and construct a purpose-built building. The Sivananda Ashram provides support on a regular basis to an orphanage for abandoned children, elderly persons and cows. Registered as a charity, the Aum Pranava Ashram in nearby Tamil Nadu, has been accommodating a children's home since 1996, an old age home since 2003 and now has a growing goshala of 60 cows.
As well as long-term shelter, the charity provides nutritious food, medical care, a spiritual environment with daily satsang, and supports the educational needs of the children into adulthood.
Chennai
Contribution to the Swachh Bharat Project (Clean India Mission) In December the staff at the Sivananda Centre in Chennai gathered together students, teachers and well-wishers (and even our Trustees!), to join them in the thorough cleaning of a local government school. Others sponsored the cleaning tools and materials and food for the day.
Nutrition for Children Six branches of the Sivananda Yoga Vedanta Centre in India contribute financially to the Jeevadhaar Foundation Charitable Trust. This charity organises a nutrition supplementary programme in villages in rural Andhra Pradesh in which school children aged from 3 to 15 receive a nutritious grain snack at the end of each school day, to alleviate hunger at home where there is often no food for them in the evenings. This project was introduced to us by our trustee Ravi Kumar in Chennai.
True charity is the desire to be useful to others without thought of recompense or reward. Charity is love in action. Charity is universal love. Give cheerfully, quickly, and without hesitation. Do charity daily–Swami Sivananda We look forward to hearing of more activities involving Sivananda staff and students working within their community. They are great yogic activities.
Kalyani is co-director of the Sivananda Dhanwantari Ashram, Neyyar Dam, Kerala, south India